Importance And Benefits Of Traveling
Beautiful locations are like gems of any place, be it a small or a big country; their beautiful locations or visiting places are something that makes a country the center of attraction for travelers all around the world. For example, Tirumala is very famous worldwide though it is a very small town located in the southern corner of India.
In many countries, beautiful visiting locations are prime contributors to their economy because visiting places promotes the tourism industry. For this reason, beautiful visiting places are a really important part of any country.
There are many beautiful visiting places in Tirumala, even though it is a small hill station in Andhra Pradesh. Tirumala is known for its natural beauty and majestic temples.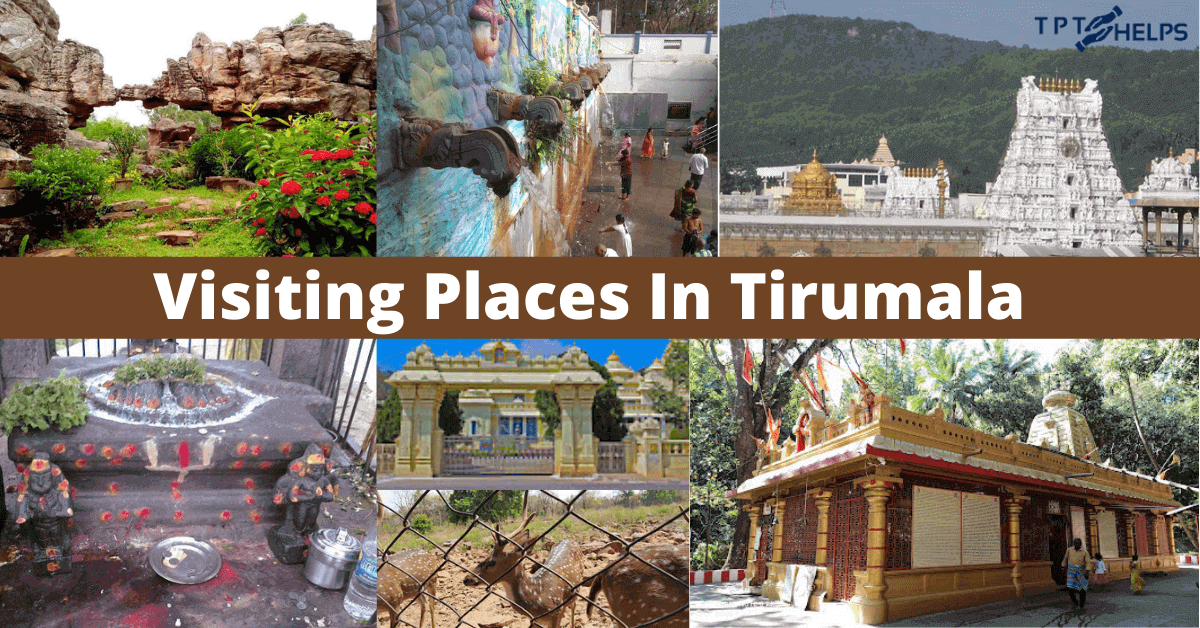 Visiting Places in Tirumala are:
Silathoranam
Srivari Padalu
Papavinasanam
SV Musuem
Japali Theertham
Varahaswamy Temple
Hathiram Bhavaji Mutt
Ananthalwar Garden
Annamaiah House
Tarigonda Vengamamba Samadhi
Narayanagiri Garden
Venugopala Swamy Temple
Aakasaganga
Chakratheertham
Reasons why having visiting places is important and beneficial
Except for North Korea, all other countries globally, even in remote corners, have beautiful visiting locations. Hence, all these countries are enjoying the benefits of having beautiful locations. This is because having tourist locations are highly beneficial in many ways.
Whether it is visiting places in Tirumala or anywhere else, tourist locations are a major part of the tourism industry. It is one of the prime economy boosters as the tourism industry contributes majorly to the economy of any place.
Along with the local economy, it is highly beneficial for the hotel and transport industry because travelers need rooms to stay and cabs to visit the tourist spots. For example, for sightseeing around visiting places in Tirumala, you need to book a hotel in Tirumala and a tourist cab.
Tourism is not only beneficial for the tourism industry; it is also beneficial for travelers in many ways. Traveling is very good for your mental well-being. Therefore, when you travel, you break from your busy and stressful life and get time for yourself and your loved ones. All these will make you feel refreshed and extremely happy.
It can also help you restore your damaged relationships with your friends or family members, or beloved. So whenever your relationship is going through really bad days, plan a trip and have fun with your near and dear ones.
Most importantly, you get quality time for yourself and your loved ones. This will increase the love and bonding among you and your loved ones.
Therefore, we can understand that visiting places is beneficial for the economy and the overall well-being of humans.
Why is traveling important?
Traveling is important for your mental and emotional well-being. It is the greatest stress-reliever of all as it has the power to make you feel better. It is well-proven that when people travel, they feel better and happier.
You can take a break from your busy life and go for vacations or weekend trips with your near and dear ones. It is not necessary to go to some fancy and expensive destinations at all. You can plan a one or two days trip to your nearby tourist locations.  For example, people of Andhra Pradesh state can go to visit places in Tirumalai. The natural beauty and majestic temples of Tirumalai will make you feel refreshed.
You can travel solo to help you discover your inner-self and start loving your own company.
How to know about visiting places in Tirumalai?
Internet is a wide window that gives you a view of everything around the world. Therefore, the easiest way to know about visiting places in Tirumala or anywhere globally is through the internet.
You can search the keywords "visiting places in Tirumala" on Google, and Google will provide you with search results consisting of articles along with pictures about visiting places in Tirumala.
This is the easiest way to know about visiting places in Tirumala. You can also learn more about such sites through various social media platforms like Instagram.
Besides, you can also check the online booking apps; they will give you the details of visiting locations included in their packages. This way, you get to know about the locations and book the trip from the app itself.
Otherwise, you can go to Tirumala and hire tourist guides there, and they will take you to all the important locations. You may also book a tour package to Tirumala from online booking apps or any local travel agency nearby. However, these options might not give you full insight into all the tourist spots of Tirumala.
Therefore, the best and only reliable way to know about tourist destinations is through the internet because gone are those days when people had to buy postcards and magazines to know about places worldwide.
Things you should consider before a trip
If you plan to go on a trip, make sure you sort out certain important things before heading out for the trip.
Just search about the tourist spots of your destination on Google and make a list of them.
Find out the distances between different tourist spots and then plan the stays, transport, and timings accordingly. This will help you book the hotel in a convenient location where going everywhere can be easy and convenient.
You can either pre-book hotels and cabs, or you can reach there and do the same. However, getting to your destination and finding hotels and cabs can take lots of time. Therefore, pre-booking methods through online apps are more convenient these days as you can reach the destination and check-in to the hotel, freshen up, go out to visit the places there.
Even if you don't like pre-booking for some reason, you at least find out ahead of journey about the hotels there, prices, fares, cab stations, contact numbers, and other fares. If you have prior knowledge of such things, it will be easier and time-saving for you to book cabs and hotels at reasonable prices after reaching the destination. The hotels and cabs will not fool you if you know the appropriate rate of the fares.
How to book cabs and hotels?
Hotels and cabs are a really important part of any trip. Therefore, make sure to book the hotel and cabs wisely and on time; otherwise, you will end up searching for good hotels and cabs for hours.
You can book the hotels cabs through online booking apps as this is easier than other methods. Everything is just a few clicks away.
You can also book from trusted travel agencies near you.
However, if you feel like bookings through online mode and agencies may not be satisfactory, you can book after reaching the destination. However, it would be better to find out the details about hotels and cabs beforehand as you can save your time after reaching the destination.
Final Takeaway
Traveling is miraculous. If you want to travel, you need to stop thinking about the expenses. All you need to do is to decide that you will go, and the rest will follow.