Kapila Theertham Tirupati Alipiri Complete Guide
At a distance of 4 km from Tirupati Railway Station & 25 km from Tirumala Tirupati Temple of Lord Venkateswara, Kapila Theertham is a famous waterfall situated inside Kapileswara Swamy Temple at the foot of Sheshadri Hills in Tirupati. This is a unique waterfall where the water of mountain streams drop from a height of over 100 feet into a large pond in the temple premises. It is one of the must-visit tourist places in Tirupati and a major pilgrimage site in Tirupati city.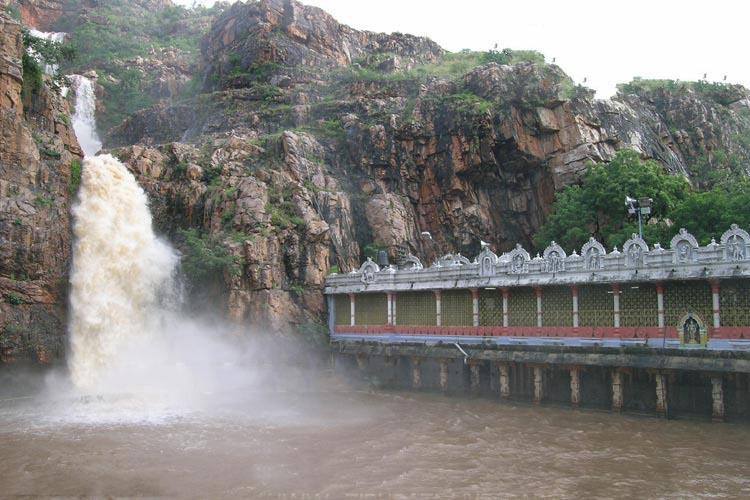 Distance (From Tirupati Railway Station): 4 Km
Visited From: Tirupati Railway Station
Trip Duration (Including Travel): 1-2 Hours
Transportation Options: Bus / Cab / Auto
Kapila Theertham temple is the only Shiva temple in the vicinity of Tirupati. It is also said to be one of the 108 sacred teerthas (springs) on Tirumala hills. The Siva lingam here is made of brass. A huge stone statue of a seated bull Nandhi greets devotees at the entrance to the temple.
According to legend, Saint Kapila Maharishi was said to have lived here, worshipped and meditated in the cave in front of the idol of Lord Shiva, hence the placed is named after the saint as Kapila Theertham. Lord Shiva is said to have blessed Sage Kapila with a vision of himself and his consort. This temple received very good support from the Kings of Vijayanagara between 13th and 16th centuries, especially from Krishna Devaraya.
There are many sub-shrines with-in the main temple premises. Temples for Kamakshi, Vinayaka, Subhramanya, Agastheeswara, and Sri Krishna are few among them. Both the temple and the waterfall are considered to be highly sacred. A holy dip here is believed to rid the devotees of all sins. This is a good place to visit during the monsoons as the waterfall looks breathtaking. The waterfall would be empty in late winter and summer seasons.
The famous festivals celebrated in the temple are Brahmotsavam, Annabhishekam, Maha Shivarathri and Vinayaka Chaturthi. Kapileswara Swamy Brahmotsavam is the biggest event of the temple celebrated in during the month of February. Another auspicious day is the full moon day in the Karthika Month.
Timings: 5 AM to 8 PM
Kapila Theertham Tirupati Near Alipiri Complete Guide
Kapila Theertham is a famous Saivite Temple and Theertham, located at Tirupati in the Chittoor District of Andhra Pradesh, India. The idol is believed to be installed by Kapila Muni and hence Lord Siva here is referred to as Kapileswara. Kapila theertham in Tirupati is the most visited place by the pilgrims who visits Tirumala. Kapila Theertham has waterfalls which flows from Tirumala Hills to Tirupati. Even though waterfalls is not available in summer time, during winter and rainy season water will be available in the waterfalls. Apart from waterfalls, Kapila theertham has a temple which is dedicated to Lord Shiva which is very powerful and famous during the full moon day of karthika Deepam. If water falls is not available in Kapila Theertham it is highly suggested to Sprinkle water of Kapila Theertham pushkarani on the head.
History of Kapila Theertham:
Kapila theertham got its name from "Kapila Maharshi" who has worship Lord Shiva at this place. It is said that, during the full moon day of Karthika Masam, all the rivers in the three world's join at Kapila theertham. If one take bath during this time he will get rid of all sins. Kapila theertham is famous for donating rice, cow and mantropadesam. By donating these at Kapila theertham items when will attain Swargam and Kailasam. Having Darshan to Kapileeswarar in this Temple is very powerful and effective.
Directions to Kapila Theertham Temple
Kapilatheertham is located near Alipiri and it is just 3 km from Tirupati the bus stand. TTD runs free buses to Kapila theertham from Tirupati Bus Stand.
Also it is located 4 km from tirupati railway station on you can get the TTD free buses from railway station too.
Kapila Theertham to Alipiri Directions and Distance
Kapila theertham is just 1 Km from Alipiri and one can take TTD free bus or auto rickshaw to reach Alipiri from Kapila Theertham.
Timings and Sevas of Kapila theertham Temple
Suprabhatham – 5.00 AM to 5.30 AM
Abishekam – 5.30 AM to 6.30 AM and 4.00 PM to 4.30 PM
Alankaram and Archana – 6.30 AM to 7.00 AM
Sarvadarshanam – 7.00 AM to 4.00 PM and 5.30 PM to 8.00 PM
Sahasranama Archana – 4.30 PM to 5.00 PM
Lalitha Sahasranama Archana – 5.00 PM to 5.30 PM
Ekantha Seva – 8.00 PM to 8.15 PM